Carnegie Mellon University is a global research university with more than 11,000 students, 84,000 alumni, and 4,000 faculty and staff. Recognized for its world-class arts and technology programs, collaboration across disciplines and innovative leadership in education, Carnegie Mellon is consistently a top-ranked university.
The university began as a small technical school and evolved into what it is today under the guidance of exceptional leadership teams.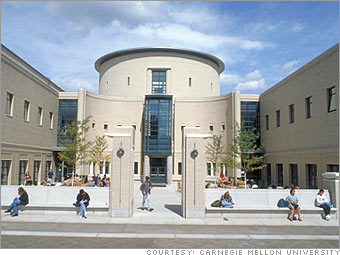 Our world-renowned faculty members are practicing professionals who bring extensive knowledge and experience into the classroom. With a student-faculty ratio of 10:1, faculty members are extremely accessible and take a genuine interest in their students' work.
We don't operate like other universities. From the beginning, innovation has been a part of our DNA and we continue to push the envelope. The university just launched "Inspire Innovation," a $1 billion comprehensive campaign to build on our unparalleled success.
Carnegie Mellon consists of seven schools and colleges: Carnegie Institute of Technology, College of Fine Arts, College of Humanities and Social Sciences,  Heinz College, Mellon College of Science, School of Computer Science and the Tepper School of Business.
Find out more about Carnegie Mellon in just 60 seconds or through our other videos.
Leading Carnegie Mellon University
Since it's founding in 1900, Carnegie Mellon's history is rich. The institution has evolved from a small technical school to a leading global research university, known for its preeminence in technology and the arts. Today Carnegie Mellon stands among an elite group of top-tier international universities that have shaped the world through education, research and outreach.
Jared L. Cohon took the helm as president of Carnegie Mellon in July 1997. In 2000, Mark S. Kamlet was named provost. He was first reappointed in 2005 and agreed to another two-year extension 2009, at which time he was also named executive vice president.
The university is governed by a Board of Trustees, currently chaired by Raymond J. Lane. The board appoints the president of the university, who is responsible for all other appointments.
From the Classroom to the World
Carnegie Mellon is an innovative leader — helping to shape the world through education, research and outreach.
Recognized for our unique interdisciplinary environment, we encourage work across departmental lines. As a result, our graduates enter the world with the ability to solve complex problems through leadership and collaboration.
We are consistently ranked one of the nation's top universities by U.S. News & World Report, offering a one-of-a-kind education. Our seven distinguished schools and colleges are:
Our friendly campus atmosphere offers opportunities to engage in groundbreaking research. With a student-faculty ratio of 10:1, our students have access to award-winning faculty — many of whom are leaders in their field. These professors and lecturers are in the classroom, lab, studio or work place creating new knowledge on a daily basis with their students.
Approximately 96 percent of faculty members have a Ph.D. or equivalent degree in their field. Ninety-nine percent of all undergraduate classes are taught by faculty, who often teach both undergraduate and graduate courses.
From Inquiry to Innovation
A research institute like no other, Carnegie Mellon is home to the world's leading experts in a range of fields. From computing to the arts to the environment to biotechnology, Carnegie Mellon students, faculty and staff are shaping the future with a strong focus on finding practical answers to complex problems.
Home to more than 90 centers and institutes, Carnegie Mellon affords its researchers the freedom to look across disciplines for solutions, benefiting from many perspectives.
After Class
Carnegie Mellon students are more than just students — they are athletes, volunteers, writers, artists and innovators. The Division of Student Affairssupports all Carnegie Mellon students through a variety of programs and events, including study abroad, student activities, student life experiences and student development.
With intramural and Division III sports, an active Greek community, more than 130 student organizations and a range of student publications, Carnegie Mellon students take advantage of an education that goes beyond the classroom.
Off campus, students can join the 86,000 other college students who callPittsburgh their higher-ed home. Offering countless sporting, recreational, educational and cultural experiences, Pittsburgh affords students all the best an urban campus has to offer. And area parks, both inside the city and outside, offer a convenient retreat to nature.
The Carnegie Mellon campus sits inside the city limits in Pittsburgh's Oakland neighborhood, a community rich with museums, libraries and entertainment, and home to both Carnegie Mellon and the University of Pittsburgh.
Athletics at Carnegie Mellon University
Just as Carnegie Mellon University has evolved into one of the nation's leading private research universities, its athletic program has developed and extended its successes over the years. While early successes in the 1900's were primarily in football, baseball and track, many of the most recent achievements have been in such sports as soccer and swimming, among the 17 intercollegiate sports sponsored by the University
Carnegie Mellon is a member of the Division III in the NCAA and of the University Athletic Association. It operates its sports programs in the belief that athletics are an integral part of the student experience. The lessons learned on the practice and playing fields and arenas are permanent ones and often have more impact because of the nature of sports.
This site is designed to provide users with the latest news regarding Carnegie Mellon's varsity sports teams as well as up-to-date information on facilities, hours, activities and staff.
Facilities at Carnegie Mellon
Carnegie Mellon University offers state-of-the-art facilities for all students and faculty to use. Our indoor pool is located in the University Center while the football field and tennis courts are located centrally on campus.
Source: Carnegie Mellon