Once called "the first American university" by educational historian Frederick Rudolph, Cornell University represents a distinctive mix of eminent scholarship and democratic ideals. Adding practical subjects to the classics and admitting qualified students regardless of nationality, race, social circumstance, gender, or religion was quite a departure when Cornell was founded in 1865.
Today's Cornell reflects this heritage of egalitarian excellence. It is home to the nation's first colleges devoted to hotel administration, industrial and labor relations, and veterinary medicine. Both a private university and the land-grant institution of New York State, Cornell University is the most educationally diverse member of the Ivy League.
On the Ithaca campus alone nearly 20,000 students representing every state and 120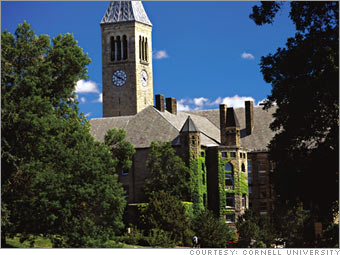 countries choose from among 4,000 courses in 11 undergraduate, graduate, and professional schools. Many undergraduates participate in a wide range of interdisciplinary programs, play meaningful roles in original research, and study in Cornell programs in Washington, New York City, and the world over.
Marks of Distinction
Forty Nobel laureates have been affiliated with Cornell as faculty members or students. The 2006–07 Cornell faculty included 3 Nobel laureates, a Crafoord Prize winner, 2 Turing Award winners, a Fields Medal winner, 2 Legion of Honor recipients, a World Food Prize winner, an Andrei Sakharov Prize winner, 3 National Medal of Science winners, 2 Wolf Prize winners, 5 MacArthur award winners, 4 Pulitzer Prize winners, 2 Eminent Ecologist Award recipients, a Carter G. Woodson Scholars Medallion recipient, a Presidential Early Career Award winner, 26 National Science Foundation CAREER grant holders, a recipient of the National Academy of Sciences Award for Initiatives in Research, a recipient of the American Academy of Arts and Letters Academy Award in Literature, a recipient of the American Mathematical Society's Steele Prize for Lifetime Achievement, a recipient of the Heineman Prize for Mathematical Physics, a recipient of the Benjamin Franklin Medal in Earth and Environmental Science, 2 Packard Foundation grant holders, a Beckman Foundation Young Investigator grant holder, and a NYSTAR (New York State Office of Science, Technology and Academic Research) early career award winner.
Cornell awarded the nation's first university degree in veterinary medicine and first doctorates in electrical engineering and industrial engineering. It awarded the world's first degree in journalism (and taught the first university course in that subject), and established the first four-year schools of hotel administration and industrial and labor relations.
College of Veterinary Medicine
Cornell endowed the nation's first professorships in American history,
musicology, and American literature. It was the first U.S. university to offer a major in American studies.
Cornell is the only Ivy League/Ancient Eight university that also is its state's federal land-grant institution; whose official motto is in English ("I would found an institution where any person can find instruction in any study"—Ezra Cornell); and whose board of trustees includes student, faculty, and staff voting members. It was the first among all U.S. colleges and universities to allow undergraduates to borrow books from its libraries.
Cornell was the first university to teach modern Far Eastern languages. Cornell's Full-Year Asian Language Concentration (FALCON) program provides unusually comprehensive and intensive one-year study of Chinese or Japanese.
Cornell University Press was the first university publishing enterprise in the United States and is one of the country's largest university presses.
The New York-Presbyterian/Weill Cornell Medical Center is a pioneer in biomedical technology. Its alliance with Columbia University's medical center and Houston's Methodist Hospital is one of the most extensive and effective health-care-provider networks in the nation, whose facilities include the Center for Reproductive Medicine and Infertility, AIDS Care Program, Center for Complementary and Integrative Medicine, Greenberg Division of Cardiology, Institute of Genetic Medicine, Jay Monahan Center for Gastrointestinal Health, Pain Management Center, and Center for Vascular Biology.
The Cornell Theory Center's virtual reality environment allows researchers to visualize data in three dimensions.
Cornell's 2005–06 research expenditures totaled $605.3 million ($419.1 million of this funding was from federal sources; $186.2 million was nonfederal).
Cornell ranked first in National Science Foundation funding for programs in academic science and engineering in 2003–04 (the most recent data available).
The Cornell Center for Technology, Enterprise, and Commercialization (CCTEC) facilitates the commercial development and use of technological innovations created by Cornell researchers, and encourages related entrepreneurship and economic development, by securing intellectual property rights protection and by marketing and licensing the technologies to businesses. In 2005–06, CCTEC received 237 invention disclosures, helped file 228 U.S. patent applications, distributed $3.7 million in royalties, licensed 47 inventions to industry, and helped form five start-up companies that are based on Cornell technologies.
Where is Cornell University?
Cornell's main campus is in Ithaca, New York, but it also has medical campuses in New York City and in Doha, Qatar, and research, study, and outreach stations and programs throughout the world.
Ithaca is a small but cosmopolitan city about 60 miles southwest of Syracuse, in the scenic Finger Lakes region of central New York State.
For a list of Cornell's undergraduate and graduate/professional colleges and schools and other academic units that includes contact information and direct web links, use the Academic Units of Cornell link in the See Also section below. For lists of Cornell's research facilities and direct links to their web sites, use http://www.cornell.edu/academics/centers.cfm.
Tuition Rates and Fees
The Office of the Bursar provides monthly e-billing statements to each student, twelve times per year. Fall tuition expenses are billed in July, and spring tuition expenses are billed in December. Tuition and fees are due before registration can be permitted. Monthly statements include new charges and credits for both the Bursar and CornellCard accounts.
Below is the table of 2010-11 academic-year tuition and student activity fee rates. Various other departmental expenses, other than tuition, may include Housing and Dining, Fraternities and Sororities, Transportation, Fitness Centers, Health Insurance, CIT Services.
Endowed College Units
Undergraduate
Architecture, Art and Planning; Arts and Sciences; Engineering; Hotel Administration; Unclassified, through the Internal Transfer Division
$39,450
Graduate
Research degrees (M.A., M.S., M.S./Ph.D., Ph.D), M.F.A. and D.M.A. programs, and non-degree students
$29,500
Professional degrees/certificates (CIPA, FALCON, M.Arch.I, M.Arch.II, M.Eng., M.P.S. Africana Studies, M.S.P. Applied Statistics, M.P.S. Real Estate)
$39,450
Cornell University's colleges, schools, and other academic units offer more than 4,000 courses, 70 undergraduate majors, 93 graduate fields of study, undergraduate and advanced degrees, and continuing education and outreach programs.
Academic Units
Cornell has seven undergraduate colleges; a graduate school; professional-degree schools in business management, medicine, law, and veterinary medicine; and affiliated faculty units.
Cornell's nearly 100 academic departments offer an astounding variety of degree programs and other types of curricula.
Cornell's numerous designated national centers and programs and other interdisciplinary research and study units support and advance every aspect of the university, are directly accessible to members of the Cornell community and others, and help ensure that Cornell maintains a global presence and perspective.
Cornell Athletics
History of Athletics At Cornell University
Just as the name of Cornell University is synonymous with excellence in academics, the Big Red athletic program is steeped in tradition and success. And even more important, it has been a bellwether of example by making its athletic and physical education program an integral part of the educational process without allowing its academic standards to drop one bit.
Cornell was founded in 1865, and sports started at the University with the very beginning. It has been said that Cornell has had a baseball team since the first nine men registered. The first administrative organizations took the form of clubs — the Tom Hughes Boat Club, the Cornell Baseball Club, etc. — each club independent of all others and financing itself by dues, contributions and benefit entertainments.
The Cornell University Athletic Association was formed in the late 1870s with the idea of guiding and correlating the activities of the various clubs. Possessing neither authority nor property, it was powerless tomod events in any substantial way and the different clubs continued to work out their own destinies. In this era the student body attempted to be brought into the government of sport through the medium of each class electing what was known as an athletic director who represented that class in the Athletic Association.
It was not until the late 1880s, when the gift to the Athletic Association of Percy Field (the original football field, now the site of Ithaca High School) made a business-like organization necessary, that the Cornell University Athletic Association was incorporated on June 17, 1889, and a definite administration set up.
Between 1889 and 1900, athletics at Ithaca developed rapidly and Cornell assumed a recognized place in intercollegiate sport. Important football games became fixtures, the Poughkeepsie regatta was originated, and Cornell took its place in the IC4As. Percy Field and the varsity boathouse were acquired and intercollegiate competition began in cricket, lacrosse, and different sports other than the original four of football, baseball, crew and track.
Nevertheless, administration remained simple, with each club financing and operating its own affairs under the guidance of the Athletic Council. This guidance became increasingly necessary as intercollegiate relations became more important and it became essential to maintain a consistent policy with other colleges in all sports.
With the turn of the century, the increasing scope of athletics, larger football receipts and the growing staff of coaches and employees, it became apparent that the Athletic Association could not operate advantageously without full-time supervision and direction. The office of Graduate Manager was established, permanent offices were secured downtown, and the separate financing of various sports abolished.
A name closely associated with the successful establishment of the Athletic Association was that of John L. Senior '01. Upon becoming the first full-time graduate manager in 1901, he set about centralizing the authority, management and supervision of all sports. John Senior brought sound business methods to the job and introduced the season ticket book idea, which prevailed for many years.
Lower Alumni Field was put into operation as early as 1907, and Schoellkopf Field (the current football stadium) and Schoellkopf Hall were occupied in the fall of 1915.
The period between 1912 and 1917 was one of great athletic success and expansion but the entry of the United States into the war brought about an almost complete cessation of the Athletic Association's activities between the spring of 1917 and that of 1919.
The revival of athletics in the fall of 1919, both at Cornell and at other colleges, was accompanied by a degree of enthusiasm, prosperity, and resulting expansion that astonished everyone. Here at Cornell the phenomenon was accompanied by vastly increased revenues and attendance at games. In three years, the Athletic Association's budgets increased three-fold. Freshman teams were instituted in minor sports and the staff of permanent coaches was increased.
After the interruption of activities occasioned by World War I, Romeyn Berry '04 became graduate manager and under him the Athletic Association assumed the proportions of the large business enterprise it is today. It was during his 17-year regime, too, that Cornell achieved its rightful place in intercollegiate diplomatic circles and extended its activities to international competitions in cross country, track, and rowing with the British universities, Oxford and Cambridge.
In 1935, James Lynah '05 succeeded to the job of graduate manager under a new title, director of physical education and athletics, and the Athletic Division became a department of the University instead of a separate business enterprise. Lynah's business acumen served nicely to meet the financial emergencies of the times, and through his inspired direction, the Athletic Association came out of the doldrums to a state of sound health and acceptable credit rating. Like most schools, Cornell was hard hit by the depression, but it maintained a well-balanced athletic program through the '30s and '40s.
While AD at Cornell (1935-44), Lynah led the drive that resulted in the formation of the Eastern Intercollegiate Athletic Conference (which later became the ECAC). Lynah was also a strong proponent for a firmer Ivy League and his work to that end had begun on his arrival in 1935. Its culmination came the fall after his Feb. 24, 1956 death with the formal implementation of the Ivy League for football.
Lynah foresaw the need for expansion of the physical plant for sports use at Cornell and it was at his behest that the wheels turned for a new athletic building (Teagle Hall) and a new indoor ice skating rink which was constructed after his death in '56 and named the Lynah Skating Rink in 1957 in his memory and for the Moakley House on the Cornell Golf Course.
Robert J. Kane '34, who served as assistant director under Lynah from 1939-40 and acting director from 1941-44, succeeded as director in 1945. During his regime, intercollegiate competition was scheduled for 22 men's varsity teams, the most of any college in the country, and the university's physical plant for athletics was one of the nation's most extensive. Eighteen sports were programmed for women.
The major post-war decision affecting Cornell in athletics came in 1954 when it joined with its seven traditional opponents to formalize the Ivy League. The philosophy behind the formation of the league recognized the value of athletics within a strong academic environment. However, it was emphasized that academic standards would never be diluted in order to develop a stronger athletic program. The Ivy presidents had actually decided to take full responsibility for their intercollegiate athletic programs in 1952. Committees were formed and after two years the agreement was reached.
During Kane's tenure, new athletic facilities, costing $9.5 million, were built: Teagle Gymnasium for men, Helen Newman Gymnasium for women, Lynah Ice Rink, Collyer Boathouse, Grumman Squash Courts, the University 18-hole golf course and Moakley Clubhouse, Paul Schoellkopf House for Visiting Teams, a Poly-Turf football field, and a Poly-Surf track. Also a million dollar endowment fund was created for the support of intercollegiate sports.
Kane, who directed the Cornell athletic program for nearly 37 years, retired in 1976. Richard D. (Dick) Schultz, currently the executive director of the NCAA, succeeded Kane as Cornell's AD in July 1976. During his five-year tenure, the athletic department underwent a number of transformations, ranging from the highly visible as in the hiring of a new football coach (Bob Blackman) to behind-the-scenes work like reorganizing the position of sports information director. Schultz had taken the initiative in leading the department out of a stormy period characterized by budget cutting, establishing strong ties with the administration and setting the department on a course which had financial self-sufficiency as its ultimate goal.
From 1981-83, Mike Slive, now the commissioner of the Southeastern Conference, served as athletic director, and in August of 1983, Laing Kennedy '63 was named director. Under his leadership, the department saw the upgrading of the physical plant — a new press box on Schoellkopf Field, refurbishing of Schoellkopf Stadium, a new football surface (All-Pro Turf) installed, construction of the multipurpose Alberding Field House (now Bartels Hall), and the Oxley Equestrian Center.
Andy Noel took over as AD after the retirement of Charles Moore '51, who led the department from 1994-99. Since Noel took over, the Big Red has had unprecedented success on and off the field of competition. During his tenure, Noel has overseen a department that has won 41 Ivy and 10 national titles. He has successfully upgraded a number of department facilities (including renovating Schoellkopf Hall and building the Friedman Wrestling Center). He also oversaw a campaign that raised $66 million in support of capital projects and endowment, securing the financial future of the department. During the campaign, 21 coaching and staff positions were endowed, bringing the total of endowed positions within the department to 30, the most of any school in the country.
Andrew P. Stifel Fencing Salle
The Andrew P. Stifel '91 Fencing Salle was dedicated in April of 1996, thanks to the generosity of the families of Andrew P. Stifel and Nina Farouk '97. Designed by then-head fencing coach Albert Peters and Cornell architect Bill Hall, the room includes approximately 4,600-square feet of fencing space as well as the coach's office and equipment lockers.
The floor is a Bio-Tech III suspension floor finished in polished maple. The salle features six Olympic size and caliber strips of perforated aluminum. The remote-controlled scoring mechanisms are permanently set in the ceiling, and one wall of the room is completely mirrored from floor to ceiling.
Each fencer has her own individual equipment locker and there is additional locker space for the men's fencing club. These lockers, as well as the coach's office, are finished in natural cherry, adding to the beauty of this exquisite facility.
The Stifel Fencing Salle is used for team and club practices, intercollegiate competition and recreational fencing. It has also been the training site for the Empire State Games, the Cornell Fencing Summer Sports School and United States Fencing Association competitions.
Bartels Hall
Bartels Hall (formerly called the Field House) houses Newman Arena, The Richard Ramin Multipurpose Room, the Andrew P. Stifel Fencing Salle, The Lindseth Climbing Wall, the Phillips Outdoor Program Center, the Class of '44 Memorial Classroom, the Kaplan Family Room, the athletic ticket office, offices for several Cornell coaches, and the Friedman Strength and Conditioning Center.
Men's and women's basketball and volleyball, and occasionally wrestling and gymnastics, compete in Newman Arena, which is considered one of the finest facilities in the Ivy League. Telescoping bleachers provide seating for 4,473 fans and allow for conversion to three practice courts. The Arena is named in honor of Floyd R. (Flood) Newman 12.
The Ramin Multipurpose Room allows for outdoor teams to train indoors as conditions warrant. This modern, flexible facility provides more than 27,000-square foot artificial turf practice field. The Lindseth Climbing Wall is located in the Ramin Room, and is the largest natural rock, indoor climbing wall in North America.
The Andrew P. Stifel '91 Fencing Salle includes approximately 4,600-square feet of fencing space, an office and individual lockers. The floor is a Bio-Tech III suspension surface finished in polished maple. The salle features six Olympic-sized and caliber strips of perforated aluminum. The remote-controlled scoring mechanisms are permanently set in the ceiling, and one wall of the room is completely mirrored from floor to ceiling.
Barton Hall
Barton Hall, built and maintained by the State of New York, has permanent seating for 4,800. The hall is named in honor of Col. Frank A. Barton 1891, the first ROTC commandant at Cornell. The structure was built in 1914-15.
During 1987, Barton received a facelift and is now one of the premier track facilities in the country. The Recaflex track features eight 42-inch lanes, one of the few indoor 200-meter tracks in the country with eight such lanes. Barton also contains a throwing cage with a cement circle and crusher dust landing sector surrounded by a 25-foot high chain link fence. The interior of the track has a Recaflex runway for the pole vault, two long and triple jump pits and multiple high jump areas. The track itself has a raised aluminum curb and a common finish line. The entire surface was replaced in early 2001.
In 1995, Barton received another major change with the addition of the H. Hunt Bradley Track Center. The center includes a Hall of Fame/meeting room/study facility for track, an office, a library and a 1500-square foot weight room.
Belkin International Squash Courts
Belkin International Squash Courts Photo Gallery
Playing on American-style courts is finally a thing of the past for the Cornell squash program. The teams are now practicing and competing on the Belkin International Squash Courts, named in honor of the project's lead donors, Steven '69 and Joan Belkin '69.
The 8,325 square-foot squash facility is the newest structure at Precinct Nine, where the Reis Tennis Center, the Oxley Equestrian Center and the Niemand•Robison Softball Field are located. Comprising six international-sized courts, all with glass back walls and two spectator courts with side wall glass as well, the $1.45 million facility is attached to the west side of the Reis Tennis Center.
Designed by Sasaki Architects of Boston, the architects for the Reis Tennis Center, the one-story, metal exterior building addition is compatible with the tennis center structure. The courts have plaster walls and maple hardwood floors. There is seating for 150 spectators.
Cornell students, faculty and staff have been using the previous facility, the Grumman Squash complex since 1954. The Grumman facility with its 13 North American style courts is currently used for physical education classes.
Charles F. Berman Field
Berman Field is a part of the Robert J. Kane Sports Complex. The natural turf soccer field measures 118 yards by 74 yards and sits inside the track oval. The field conforms to NCAA and National Federation of State High School Association rules and regulations.
The field is flat, with vertical drainage and automatic irrigation systems. The design includes a soil mix of eight parts sand, one part top soil and one part bio-solid compost. This system can divert 5-10 inches of rain per hour away from the playing surface. A mixture of 30 percent perennial rye and 70 percent Kentucky bluegrass has been used to create the turf. This mixture was selected for its sod-forming capabilities, as well as its adaptability to close mowing for soccer.
In August of 2000, the bleachers and lights were completed, allowing over 1,000 Big Red fans to pack Berman Field to watch their beloved soccer teams in action.
The field was named in honor of the late Charles F. Berman '49. Described as a flashy and fiery center forward on the historic Cornell soccer team of 1948, Berman was probably the major reason that Cornell soccer reached national prominence that year.
David F. Hoy Field
Hoy Field, located on the central campus, has been the home of Cornell baseball since 1922. The complex features batting cages – dedicated in memory of Kerry Brooks '90 – bullpens and dugouts. A press box, sound system, electronic scoreboard – a gift from the Class of 1962 – and bleacher seating for roughly 500 fans surround the field.
The field is rich in tradition. It was named in honor of David F. Hoy, Class of 1891 (of "Give My Regards To Davy" fame), who served as the baseball faculty advisor for many years. The first Cornell baseball game at Hoy Field was played on April 22, 1922, against Colgate, and the field has been home to many great Cornell players over the years. It has also seen its share of famous opponents, including Major League Baseball Hall of Famer Lou Gehrig.
With the help of numerous parents and alumni, the field underwent a major renovation prior to the 2007 season.The old playing field was re-oriented on the land it sat upon, eliminating the short outfield dimensions down the foul lines. The playing surface was also replaced with FieldTurf, allowing the Big Red to get outside much earlier each spring than with the previous grass surface. Additionally, new dugouts, a grandstand and a press box were constructed, adding to the enjoyment of players and fans alike. With the improvements to Hoy Field, the facility is now one of the top collegiate baseball diamonds in the northern half of the country.
John Collyer Boat House and Doris Robison Shell House
Cornell provides spacious and varied training facilities for the 150 women and men who participate in the rowing program.
The John Collyer Boat House is a grand facility with three boat bays and a shop, three locker room areas, a trophy room filled with rowing memorabilia, offices for coaches, and a bunk room that has been home to many oarsmen in training for the IRA and national teams. Next door, the Doris Robison Shell House provides two more boat bays and an additional locker room.
The boat houses are tucked into a cove on the inlet that sits at the 1700-meter mark of the 2,000-meter race course. The inlet opens out into Cayuga Lake, a spectacular body of water that provides unlimited miles for the crews in training. The lake sits in a valley that provides views of the countryside and that offers horizons that complement the majestic beauty of the sport.
Friedman Strength and Conditioning Center
Champions are crowned during the season, but championships are earned long before competition begins. Cornell's 1,100 varsity athletes have exclusive access to one of the newest and best training facilities in the nation—the 8,000-square-foot Friedman Strength and Conditioning Center. Completed in June 1997, this impressive $2 million addition to the Field House reflects the university's strong commitment to athletic excellence. Coaches and team members alike credit the center, its world-class equipment, and first-rate staff with adding immensely to the success of the Big Red athletic program.
The Friedman Center contains free-weight, selectorized, plyometric, and cardiovascular equipment and has been designed to meet the diverse training needs of Cornell's athletes. The center can accommodate up to 100 users at a time without compromising safety or function. Its unique features include air-conditioning, a 175-watt stereo system, and damage-resistant flooring.
Cornell's varsity strength and conditioning program—nicknamed "Big Red Power"—focuses on enhancing performance and preventing injury. The new facility and equipment enable the staff to prescribe year-round sport-specific programs with variety and precision.
Before the training programs are designed, the muscular and metabolic needs for each sport—and for each position within the sport—are analyzed. Athletes are then assessed to identify their individual strengths and weaknesses, and follow-up assessments are conducted at regular intervals. Comprehensive workouts are prescribed to address deficiencies and promote the development of skills used during competition.
Injury prevention also is emphasized. Through resistance training, the number and the severity of injuries are reduced. If an injury does occur, the strength and conditioning staff works closely with the sports medicine staff to ensure a safe and complete rehabilitation. The objective is to allow the athlete to resume full participation as soon as possible.
James Lynah Rink
LynahRink.com
Public Skating/Ice Rental Information
Seating Chart – name a seat at Lynah Rink
If you've never been to a Big Red hockey game at Cornell's Lynah Rink, there are quite a few things you've never experienced. You've never camped out in line just to get season tickets and ensure your spot as one of the raucous and devoted "Lynah Faithful." But most importantly, if you've never been to Lynah, you've never really experienced all the best that college hockey has to offer.
Lynah Rink, turning 50 years old in 2007, is the home of Big Red hockey. The rink, which was dedicated April 6, 1957, was named in honor of the late James Lynah (class of 1905), director of athletics at Cornell from 1935-43.
Cornell began sponsoring a hockey team in 1900-01. All the Big Red's home games were played on the university's outdoor rink at Beebe Lake until the 1947-48 season when a series of abnormally mild winters left the team on "thin ice" at Beebe, causing Cornell to drop its hockey program entirely. Fortunately, the construction of Lynah Rink gave the team a new home, enabling Cornell to resume ice hockey as a varsity sport for the 1957-58 season.
Lynah has received a facelift or two since its inaugural game on March 21, 1957, between the N.Y. Rangers of the NHL and the Rochester Americans of the AHL. During the summer of 2006, the rink underwent a 16,700 square foot expansion that added new locker rooms, coaches offices, study lounges, new athletic training space and the addition of approximately 450 new seats. Prior to the expansion of the support space, the university spent nearly $1 million in renovations to Lynah in the summer of 2000, replacing the rink floor, drainage system, frost protection and refrigeration piping, as well as adding new boards and seamless glass.
Though many physical aspects of Lynah Rink have changed over the years, one thing remains constant: the crowd. Lynah is capable of holding 4,267 boisterous Cornell hockey fans who provide unwavering support for the Big Red and create an atmosphere that is unparalleled in the sport of college hockey. Although many rinks in the nation are larger in seating capacity, few are known to be louder. The Cornell fans, aptly named the "Lynah Faithful," stream into every home contest and make themselves as much a part of the game as the players do. Whether they're cheering for the Big Red or joining the pep band in their rendition of "Give My Regards to Davy," the Lynah Faithful reaffirm the old saying, "there's no place like home." In fact, the Big Red has won nearly 72 percent of its games played at Lynah Rink since its opening, with a 82-17-14 home record over the past seven years. The longest home winning streak for contests played in Lynah is 63 games, which started Jan. 14, 1967 and ended Jan. 29, 1972. Taking that into consideration, the Lynah advantage is no secret.
The fall of 2006 saw the completion of a renovation of Lynah Rink and a campaign to endow the ice hockey programs at the university.
A one-story, 16,700-square foot addition was constructed on the south end of the building. A new concourse was added on both sides, allowing for the addition of approximately 450 new seats, including the addition of 10 premium seating areas on the north and west ends of the rink. The following features were also created and enhanced.• Six locker rooms, as opposed to four, with significant expansions in terms of meeting rooms, cardiovascular and rehabilitation training areas.
• Offices and locker rooms for the head and assistant coaches.
• Study lounge for student-athletes.
• State-of-the-art video room.
• Bikes and skating treadmill rooms.
• Multipurpose room for receptions, meetings with recruits, etc.
• 10 premium viewing areas.
• 450 additional seats.
• New concourse outside of the playing rink.
• Updated press box.
The Big Red plays in front of a packed house every night at Lynah Rink.
Since Lynah Rink opened, Cornell has won two NCAA men's hockey championships (1967 and 1970), an ECACHL record 11 tournament championships (1967, 1968, 1969, 1970, 1973, 1980, 1986, 1996, 1997, 2003, and 2005) and 15 outright Ivy League titles; the Red tied for the crown four times.
Marsha Dodson Field
In the summer of 2008, the Cornell University Department of Athletics made a major commitment to the Big Red field hockey program with the construction of Marsha Dodson Field, a new AstroTurf stadium. Construction of the field began in early July on alumni fields behind Bartels Hall and was completed in time for the beginning of the 2008 season.
Besides the installation of the AstroTurf, the preferred surface for NCAA Division I play, a permanent scoreboard wasinstalled, as well as a set of portable bleachers and a portable scorer's table. The stadium provides an intimate setting for fans of the Big Red, as it seats approximately 300 spectators.
The stadium also features a state-of-the-art sprinkler and drainage system which will allow the field to be watered for all training and competition.
The Moakley Course
The competition site for men's and women's cross country, the Moakley Course is mapped out across Cornell's Robert Trent Jones Golf Course. just one mile from the center of campus.
The men's 5-mile course was first run in 1953. With the exception of one asphalt road which is crossed twice, the entire course is on the grass "carpet" of the golf course. There are two gradual hills that rise 25 and 30 feet, respectively, over one-quarter mile of terrain each. There are also some gentle inclines and declines until finally, at the 4 1/4-mile point, runners descend into a gorge for about 120 feet. After about 1/2-mile, there's a 90-foot climb out of a gorge and 600 yards to the finish.
In 1978, the women's course was converted from 3 miles to 5,000 meters (3.1 miles). Its route traces a portion of the Moakley Course. Both courses are ideal for spectators because runners are seldom out of sight of the start/finish line.
Niemand*Robison Softball Field
Since its dedication on April 25, 1998, the Big Red softball team has called Niemand•Robison Field home.
The Niemand•Robison Softball Field features dual batting cages and bullpens. Concrete dugouts, seating for 200, a press box, a sound system and an electronic scoreboard surround the playing field.
The playing surface consists of an infield of Marco clay, a product of Canada and installed in August, 2005, a Kentucky bluegrass outfield and a stonedust warning track. Tall oaks, shag bark hickories, sugar maples and white pines encircle the ballpark.
The Big Red has amassed 116 wins at Niemand•Robison field in the 11 seasons it has played at the facility and holds a .753 win percentage while enjoying the friendly confines of Niemand•Robison.
The complex was made possible by a lead gift from Arno Niemand '56 and supporting gifts from the Ellis H. Robison '18 Fund and the President's Council for Cornell Women.
The Oxley Equestrian Center
Oxley Equestrian Center Photo Gallery
Facilities
Riding facilities at Cornell University have existed since the 1930's. The facility we are currently in was built in 1988. The Oxley Equestrian Center maintains two modern well-lit barns. The larger barn houses 25 lesson/equestrian team horses and 30 polo ponies. It is insulated for winter comfort and has rubber matted stalls, team lockers and a wash area with hot and cold water available to all facility users. The smaller barn accommodates 19 boarders, 5 equestrian team horses and their equipment.
The Oxley Center also has a heated indoor arena which measures 250 feet by 90 feet and two outdoor sand arenas for jumping and dressage. The indoor arena features mirrored walls, restrooms with showers, laundry facilities, offices, video and meeting room and AHSA regulation jumps. The arena also has a polo practice cage and bleacher seating for 350 spectators.
Private Lessons
A limited number of private lessons are available. During the winter months these are mostly taught on the weekends. In the summer, private lessons are available weekdays and weekends. For more information on equitation call Tarene Friedman, equitation program manager at 607-272-0150.
Group Lessons
Cornell students are given the opportunity to take equitation for physical education credit at the Oxley Center. Equitation lessons emphasize hunt seat equitation and combined Training (dressage and jumping). The lessons meet once a week for 12 weeks at the equestrian center. A minimum of 10 rides are necessary for physical education credit. There is substantial savings if students sign up for more than one lesson per week. Various levels of lessons are given from absolute beginner through advanced. These lessons can also be taken not for credit and are open to non-students . Some of the more advanced lesson horses can be half leased if more riding opportunities are desired. Students are expected to arrive for their lessons in long pants, breeches or chaps. The Oxley Center provides helmets, but riders can use their own as long as they carry the ASTM certification seal and have a harness.
Boarding at Oxley Equestrian Center
The boarding barn at Oxley Equestrian Center houses 19 boarders and is available to students, staff and faculty of Cornell University. The box stalls are 10'x10′ in size and are rubber matted. Included in the board is twice a day grain and hay feeding, watering two or three times a day (depending on the season), stall cleaning once a day, and blanket changes for turnout during the winter. Stalls are bedded with shavings. The Qxley Center provides water and feed buckets for the boarders. There is room at the facility for boarders to bring one large trunk and one smaller brush and hoofpick tote. Each boarder can bring two saddles and two bridles.
The Reis Tennis Center
Reis Tennis Center Photo Gallery
The Reis Tennis Center boasts six indoor courts with a Plexi-Pave surface and six outdoor courts.
Indoor accommodations include bleacher seating for approximately 200 spectators, two staff offices, a team room, team and general lockers.
The tennis center opened in 1994 and is named in honor of L. Sanford Reis '29 and Josephine Mills Reis '29.
Courts are available at the Reis Tennis Center. Please call 272-0037 for the current rates and reservations.
The Robert J. Kane Sports Complex
Completed in the fall of 1996 and dedicated in the spring of '97, the Kane Sports Complex contains the William E. Simon Track and the Carl A. Kroch Throwing Fields.
The Simon Track boasts a state of the art eight-lane, 400-meter synthetic track oval, consisting of eight 42-inch lanes. As required for record-setting performances, the track has a raised portable curb on the inside lane. In addition there are two chute extensions so that the dashes can be run in either direction. The track, which encircles a first-class soccer pitch (Berman Field), is already being touted as one of the premier facilities of its kind.
The Kroch Throwing Fields are located immediately east of the track and feature dual discus and hammer circles with a shared protective cage, a shot put circle and a javelin runway. The facility also includes a fully-integrated underground timing system and scoreboard, along with four long jump and four pole vault pits.
The Kane Sports Complex is named for Robert J. Kane '34, a leader of national and international influence who capped three decades in the Olympic movement as president of the United States Olympic Committee from 1977-80. A world-class sprinter at Cornell, Kane went on to become Dean of Physical Education and Athletics before his retirement in June 1976.
Robert Trent Jones Golf Course
Robert Trent Jones Golf Course Photo Gallery
For complete information on the Robert Trent Jones Golf Course, please visit the RTJGC web site at:http://bigred2.athletics.cornell.edu/golf/index.html
The Cornell University golf course was designed by Robert Trent Jones and proves to be a challenging test of golf for all levels of golfers. The course is conveniently located at the edge of the Cornell University campus. The facility has all the amenities needed to improve your game from tee to green – practice greens, chipping area, practice sand trap and 300-yard driving range will all help you fine tune your game.
The Golf Course is open for use by the Cornell Community and their guests only. Cornell ID Card, or other proof required. Guests must be accompanied by their Cornell host at time of play.
Schoellkopf Field
* Friends Hall Photo Gallery
Schoellkopf Field is the home of Big Red football, sprint football, field hockey and men's and women's lacrosse. The facility has undergone many great changes over the years, resulting in today's magnificent structure.
During the 19th century, many of Cornell's athletic teams trained on Percy Field where Ithaca High School now stands. During the early 1900s, though, Cornell's population grew quickly and Percy Field was no longer suitable for the growing number of Cornell athletes.
Gradually, the idea of having adequate athletic facilities on campus developed. The Alumni Field Committee was created to consider this possibility and they persuaded the university set aside land for a field. The committee "strove, pled, and prayed" for donations to the proposed athletic facilities.
Because of a generous donation from Willard Straight '01, the construction of a field house was made possible. The contribution came in memory of his friend, Henry (Heinie) Schoellkopf '02, an outstanding football player and a "beloved gentle giant." It is said that he once dove 70 feet into a gorge pool to rescue a drowning dog.
The Schoellkopf family themselves then responded to Straight's donation and helped finance the project. Finally, construction of Schoellkopf Field, which would be on the highest point on campus, could take place. Schoellkopf Field was ready to open the fall of 1915. The University planned a huge parade from the Arts Quad to the field for the dedication exercises and opening football game. Everyone in Cornellundergraduates, faculty and staff, in addition to alumni and invited guestswas expected to participate.
On Saturday, October 9, 1915, all campus activities were suspended at noon. An estimated crowd of 6,000 quickly gathered in front of Goldwin Smith Hall as instructed by the University. President Jacob Gould Schurman slowly led the procession to the awaiting Schoellkopf Field. The impressive parade was the largest turnout of its kind in the Ithaca area at the time.
Exactly five years after the dedication, the General Electric Company completed work on a flood searchlight system for the field, which was designed to illuminate the field without causing glare visible to the players. The project was of major importance to athletic teams, especially in the fall and winter months, when shortened hours of daylight cut down after-class practice time.
Before 1915, the largest crowd to assemble for an athletic event in Ithaca was less than 5,000. The development of automobiles and improvement of roads brought larger and larger crowds to the stadium. Soon, it became apparent that Schoellkopf's capacity of 9,000 was no longer sufficient.
In 1921, a study and report was commissioned and in the spring of 1923, University trustees approved the plans to reconstruct the east side stands. Construction began that winter and in September, 1924, the Crescent was completed increasing capacity to 21,500. In June, 1947, permanent steel stands on the west side of Schoellkopf Field were built boosting total stadium capacity to 25,597.
Schoellkopf Field was one of the University's most valuable, but least used areas on campus until the introduction of an artificial turf. In early 1971, it was announced that an anonymous donor had made a gift for turf on Schoellkopf Field. The person who first benefited from the artificial surface was probably Cornell's star tailback Ed Marinaro '72, who eventually broke every school rushing record. The field has since been resurfaced three times, most recently in 1999.
Expansion and growth for Schoellkopf Field continued. The new press box was built in 1986, and the stands have been refurbished. In 2006, the Big Red moved into the newly renovated Schoellkopf Memorial Hall, which includes an addition featuring new locker rooms, meeting rooms, a football tradition room and coaches offices. Schoellkopf Field has become an irreplaceable part of Cornell's athletic tradition and campus.
Teagle Gymnasium
The women's gymnastics team trains and competes in the 10,400-square-foot Teagle Hall Gymnasium.
Outfitted with the newest AAI equipment, the gym features six high beams, two low beams, three full sets of bars, two vaulting tables, a stratum floor, a 30-foot Tumbl-Trak and a trampoline.
The gym also includes a state of the art loose foam and resi-pit system. Gymnasts utilize the pit in conjunction with all four events. The pit area includes an 80-foot vaulting runway, a 270-square-foot beam and vault area, a 48-foot spring tumbling run and a full set of bars (converts to single rail) mounted over the pit.
Teagle Hall Pool
Source: Cornell.edu